Yesterday I attended an event called Sandwich Night With The Deen Brothers (Paula Deen's boys Jamie & Bobby).  I was invited by Jennifer James from the MomBloggersClub who is one of my favorite people out in the blogging world. She is really helpful, smart and an all-around great person to know.
The purpose of the event was to show people that serving sandwiches can be a quick and easy solution for dinnertime. It's both easy on our wallets and our waistlines ;).
The Deen Brothers have partnered with Go With The Grain to encourage families to make one night a week a sandwich night. They both created some healthy and delicious recipes.
Making one night a sandwich night would be so easy for me because I don't have to really think about that dreadful question, "What should I make for dinner?" I really hate those days when I'm lost for recipes. This makes it VERY easy for me.
The Deen Brothers demonstrated some unique and tasty sandwich recipes all while explaining the importance of introducing whole grains to the whole family.
As you may know, the Deen family started out their business by serving sandwiches out of their home to make ends meet years ago.  Sometimes, they are alongside with their mom, Paula Deen, on her show Paula's Home Cooking and they even have their own show called Road Tasted.  I think I've seen them all.  I love the Deen Family.
I'm a HUGE fan of the Food Network so I know all about the Deen family when they were on Chefography. What a great story behind their success.  It truly is a family affair.
About Go With The Grain:

The Grain Foods Foundation is dedicated to advancing the public's understanding of the important role grain-based foods play in the human diet. Living a healthy lifestyle is all about achieving balance — between mind and body, health and fitness, and even in dietary …choices like whole and enriched grains. The USDA Dietary Guidelines for Americans recommends six daily servings of grain foods – a recommendation we like to call the Daily Six – and making half of those grains whole grains. Incorporating the Daily Six into your diet can be an easy step toward better health.
My two favorite recipes that were demonstrated at the event were the Zesty Tuna Fish Salad Sandwich and the Grilled Bacon Pimento Cheese Sandwich. They were both delicious and very easy to make. I can't wait to make these for my family.
Zesty Tuna Fish Salad Sandwich
Ingredients
8 slices whole wheat bread
2 (6 oz.) cans light tuna packed in olive oil, drained
1/3 cup mayonnaise, more or less depending on preference
zest and juice of 1 lemon
4 eggs, hard boiled and finely chopped
1/4 cup chopped dill pickles
1 tablespoon minced onion
1/2 teaspoon lemon pepper
salt to taste
4 leaves green leaf lettuce, chopped
8 slices tomato, thinly sliced
Instructions:
The lemon makes this tuna salad zing!
In a medium mixing bowl, whisk together mayonnaise, lemon zest and lemon juice. Add tuna, eggs, pickles, minced onion and lemon pepper and stir to coat. Add additional mayonnaise if needed. Salt to taste.
Divide tuna salad among 4 slices of bread. Top each with chopped lettuce and tomato slices. Top with remaining 4 slices of bread and serve.
Grilled Bacon Pimento Cheese Sandwich
Ingredients
8 Slices White Bread
1/4 cup butter, softened
8 slices bacon, cooked crisp and crumbled
pinch of garlic powder
1/4 cup mayonnaise
1/2 cup grated Monterey Jack cheese
1/2 cup grated sharp cheddar cheese
2 oz. cream cheese
1 (4 oz.) jar of pimentos, drained and diced
1 teaspoon grated onion
salt and pepper to taste
Instructions:
Bobby's favorite Pimento Cheese made even better by adding bacon and grilling!
In a medium mixing bowl using a hand held mixer, beat cream cheese mayonnaise and garlic powder until smooth. Add in Jack and Cheddar cheese, pimentos and grated onion. Beat until well blended. Stir in crumbled bacon. Salt and pepper to taste.
Butter one side of each slice of bread. Top 4 of the slices with bacon pimento cheese spread. Top with the remaining 4 slices of bread (butter side out).
Heat grill pan or griddle to medium. Grill sandwiches until golden brown on one side. Flip to other side and continue cooking until golden brown. Serve warm.
Raquel @RachlWhite, Me, Yakini @ThePrissyMommy, Jonesie @NYStateofMom, Linda @NYCSingleMom, Mitch @GayNYCDad
Jaime Deen, Me and Bobby Deen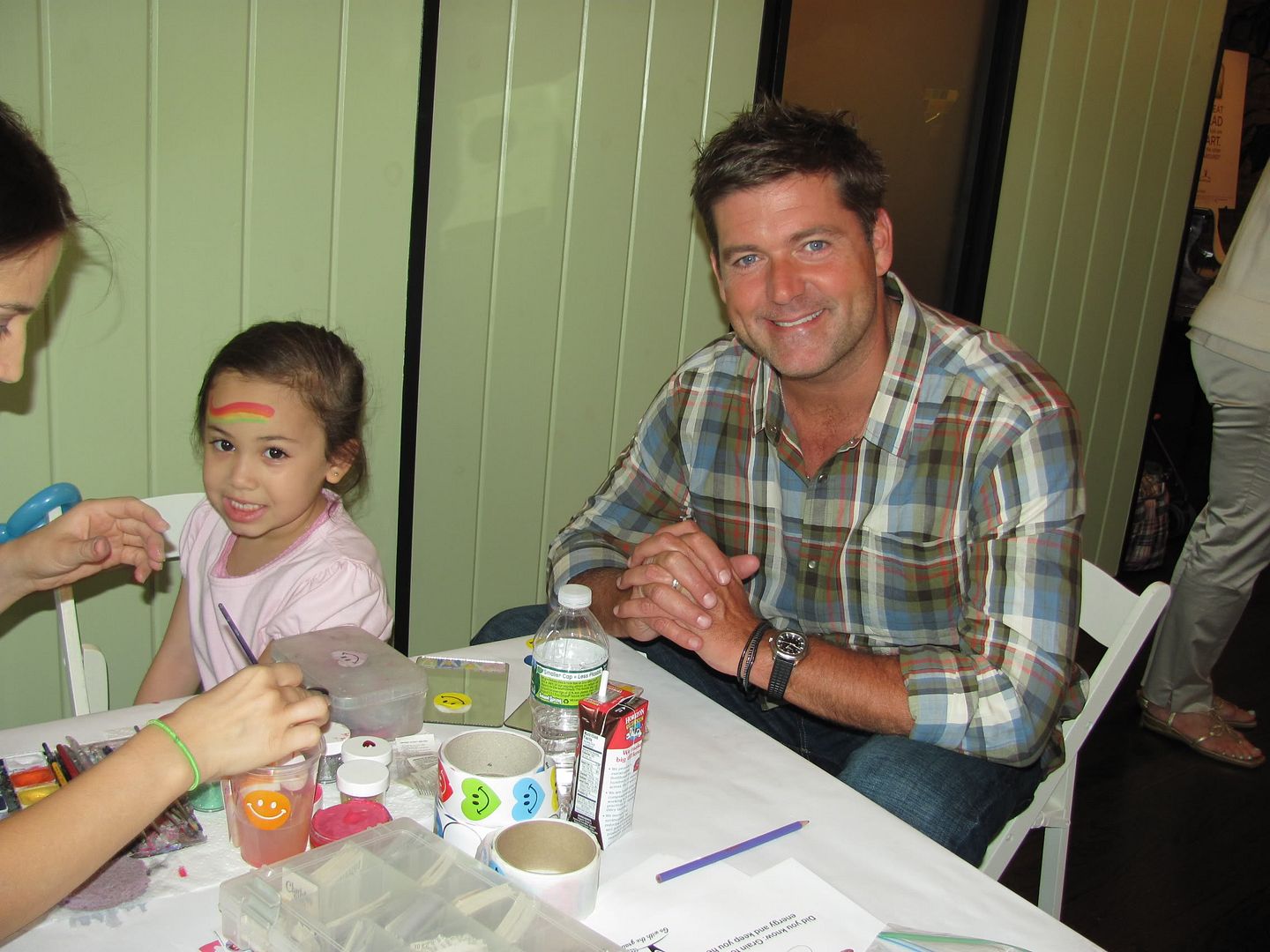 Here is Jaime talking to my daughter at the Sandwich Night event. He was so sweet and very personable with everyone.  He loved the kids and spoke about his son whose turning 4. Awwww. Aren't those dimples so cute?!

Visit www.gowiththegrain.org to see the Deens' recipes and submit your own. Fans of GoWithTheGrain on Facebook can also enter to win a chance to Share a Sandwich with the Deen brothers in their hometown of Savannah, GA.
Wanna know more about the cutie Deen brothers Jaime and Bobby? You can visit them on their site TheDeenBros.com.
*A huge thanks to Jennifer James for inviting me to this fun event even though I got there late :/. It was fun.