(Note: Post is long with photos & video so please make sure to check those out! Thanks.)
Waking up at 6 am is something I usually don't like doing in the summer. I'm a wahm (p/t)  so the summer days for us are also lazy days. We go to sleep late from watching TV, movies or playing games and usually the kids are sleeping til 9am.
This past Tuesday was exceptionally different. Several days ago I received an invitation from a representative of Tide detergent about the upcoming advanced screening of Ramona and Beezus (which is also based on the popular book Beezus and Ramona by Beverly Cleary) and the possibility of meeting the stars of the movie, Selena Gomez & Joey King in person.  As soon as I told my girls that they may be able to meet Selena Gomez and Joey King in person, they freaked out!  They saw the trailer of the movie while watching the Disney channel plenty of times so they were extremely ecstatic.
I mentioned to my girls that it would a public event so we may or may not meet Selena but will probably have an opportunity to take a photo with her. They were gleaming with excitement. The only thing they were not happy about was waking up at 6am.
The day of the premiere, my girls surprised me by waking up with no problem. I'm sure Selena Gomez helped out with that.
When we arrived to Madison Square Park, we saw a crowd of people but the crowd wasn't too bad. The Tide tent was up, the mural and paint were ready to be used and the crowd was getting ecstatic about seeing the stars of Ramona and Beezus.  You can definitely feel the positive vibe in the air.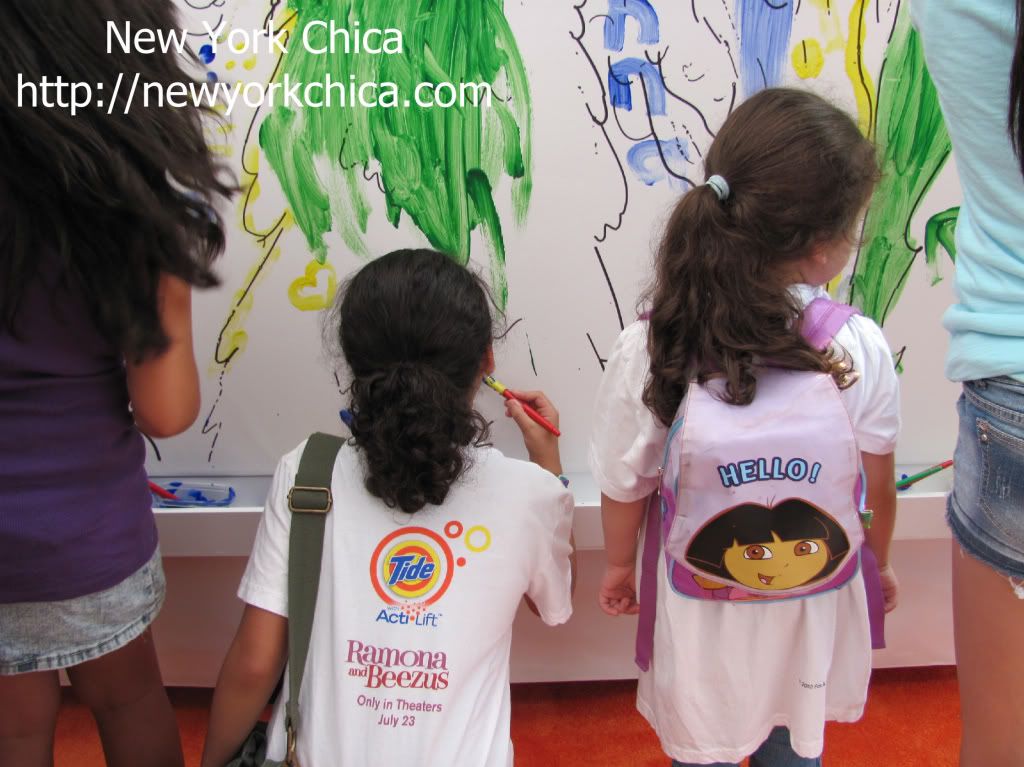 Before Selena and Joey arrived, the Tide team gave out t-shirts (to cover ourselves while we help paint the mural), samples of the new Tide Acti-Lift detergent and of course free passes to see an advance screening of Ramona and Beezus that same day at Loews Theater on 19th St..
While waiting for the big stars to show up, my girls, Migdalia, her son and I decided to get a snack so I walked over to Shake Shack and waited on line to finally taste a Shack burger. It wasn't long before I sank my teeth into a delicious and addicting burger.  I heard a lot about the Shack burger but never knew it was that tasty.  If you've never been to a Shake Shack in New York City, you are missing out. They are GOOD!
After our lunch, people were lining up to finally catch a glimpse of Selena and her co-stars but since bloggers are considered "media", we had the VIP treatment thanks to Tide.  We didn't have to stand on line, we actually went in the tent with the other Tide members and the people behind the scenes of the movie.  It was great being able to wait inside with less people than waiting outside with the crowd of screaming girls (there were a ton of girl scouts that were just too loud for me but Tide loved every minute of it).

It seemed like we waited for hours but finally the stars were walking the "red" carpet.  The first star I saw was Hutch Dano who played Selena's crush.  He was very personable to the media who were interviewing him and smiling the whole time.  The second star I saw was Bridget Moynahan, who played Ramona and Beezus's mom.  She is as gorgeous in person as she is on the big screen.  A few minutes later, Joey King walks in and the screams from the girl scouts grew even louder.  I bet she will do well like Selena because you can see the sparkle in her eyes as she walked down the carpet. She was loving every second of everything.  She loved being the center of attention and the fans love her too.
After everyone walked the carpet, it was time to take pictures with the stars.  It was getting chaotic once the stars got in the tent with the rest of the VIP attendees.  It got so crazy that the family photo opp was never done (Tide mentioned that this would be a possibility). Instead the kids took a group shot with Selena and Joey.  They seemed happy about it.
I asked Selena's bodyguard if I can take a picture of my girls w/ Selena but he said no but Selena said YES!! And so it happened!! Kiss that bodyguard! Oh and don't worry about my little one. She was upset because SHE was not next to Selena.

Once the craziness was over, it was time to walk over to AMC Loews Theaters to see the advance screening of Ramona and Beezus.
We got there a bit early so we just chilled out inside the main lobby on the floor.  It felt so nice to finally sit down after hours of standing.
Before going in the theater, we were all treated to a small popcorn and a small soda thanks to FOX.
Inside the theaters, I noticed that we were going to be sitting just a few feet away from the stars of the movie minus Selena (she had a prior engagement with David Letterman).  I thought that was really cool to be able to sit down in a theater with the actors from the movie.  It was my first experience and hopefully won't be my last.
Before the movie started, the cutie pie Joey King announced the movie to the crowd and it was finally time to see the screening.
About the movie; Ramona and Beezus:

The adventures of young Ramona Quimby (Joey King) and her big sister Beezus (Selena Gomez) come to life in this all new film based on the best-selling books (over 30 million…and counting) by Beverly Cleary. Ramona's vivid imagination, boundless energy, and accident-prone antics keep everyone she meets on their toes. But her irrepressible sense of fun, adventure and mischief come in handy when she puts her mind to helping save her family's home.
Our thoughts (no spoilers 😉):
My girls and I absolutely loved the movie. It was better than I expected.  I laughed, had tears in my eyes and could relate with many different situations that happened in the movie. It was not in any way far-fetched either.  It was like real life. There were no huge mansions, fancy cars or anything that didn't seem real out the world that "normal" people live in.
Bridget Moynahan and John Corbett did really well as Ramona and Beezus's parents.  They were sincere and very genuine.  Ginnifer Goodwin did wonderfully as Aunt Bea.  She took the time with her nieces to guide them to the right path.  Josh Duhamel was the cutie (isn't he? lol) next door who turned out to be someone's true love (I won't spoil it by saying who) and the guy who played Selena's crush, Hutch Dano was pretty good too. All the tweens and teens adored him. I can see him as a future heart throb with all the young girls screaming out his name wanting an autograph.
I give Ramona and Beezus 5 stars.  It's a great family movie and I think it's a movie we all can relate to.
This pic was pure luck! Literally a second after the flash went off, her publicist called her and said no more photos! 🙁
If you haven't seen the trailer, check it out below:

Ramona and Beezus will be in theaters everywhere tomorrow, July 23rd.